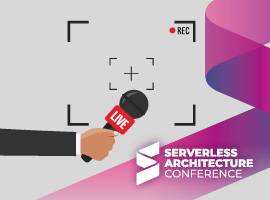 Serverless is without a question a very hyped topic in the tech industry right now. At the Serverless Architecture Conference 2019 in The Hague we talked to Marcia Villalba, Full Stack Editor at Rovio, about the Status Quo of Serverless and why GraphQL fits so perfectly in this concept.
In the world of DevOps the rather new Serverless paradigm is considered a very disruptive innovation, changing the daily work life of operators and developers alike in many ways. We talked to Marcia also about those changes and how "Devs" and "Ops" are defined in this new era of Cloud-native. She also shared her views on the future of Containers and Kubernetes.
Want more great articles about Serverless Architecture? Subscribe to our newsletter!